Recently, a client had a question about naming a new program.
I saw the question in our private forum, and I groaned inwardly.
I'm so bad at naming programs.
I mean, I know the rules. I know it should be sexy, and attention catching, and to the point.
But… arggghhh!
So, I told her I would ponder. Then I set the question to simmer while I went on with my day.
This morning, I checked in with the Name Your Year ritual that is currently happening in the Feminine Business Magic Facebook group. "I'm really good at naming," I bragged to my team. I could see the process working. I was beginning to feel the right names, the correct path for the women who posted.
(BTW – you can still join the ritual to set your intention for what 2022 will be by joining here)
Then the answer hit me. I was only bad at naming programs because I tried to do it from my head, lining up the words in a certain formulaic way. When I stop trying to force things and allow my creative Divine Feminine to guide, the right name is revealed to me.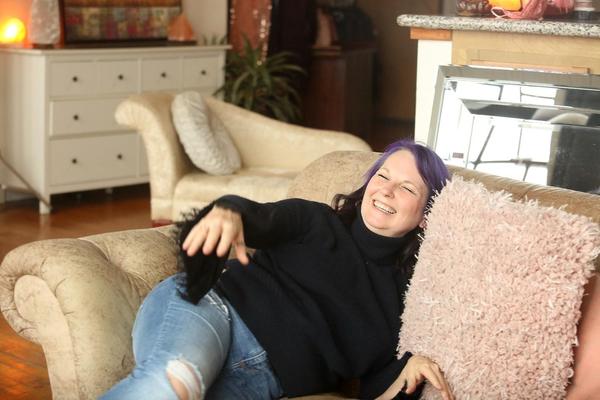 I laughed in relief and dropped into the spirit realm where I downloaded a simple process to assist my client in discovering what her Divine Feminine has to say about her new program.
It's a powerful meditative practice of connecting with the energy of her peeps, her program and her highest self for the highest and best name to be revealed, as well as other helpful info about her program.
That's how it works when you operate from the Feminine.
Questions pop up. There are decisions to be made and programs to design. And your mind doesn't have the answers.
When you connect with your Highest Self and embody the essence of the Divine Feminine, answers come. They don't always come on your schedule. Sometimes, it's in the middle of the night. Often, it's in the shower! Yet the answers always come.
Operating from the Feminine means becoming comfortable with a new way of doing business even when it's uncomfortable. Being ok with taking space for a correct and powerful answer to arise. Being ok with saying to a client, "I don't know in the moment, let me ponder." Being ok with standing in your power in the darkness between asking and answering.
And taking inspired action as soon as possible after the answer is given. Riding the wave of energy that is created in the spirit realms by the whispers of your soul. Calling upon the Divine Masculine in you to do the thing, make it appear in the physical plane.
Weaving this dance between space and action throughout your day, throughout your business.
I've opened my calendar for 3 women to learn this new way and birth their 6-figure business in 2022.
Want to join me?
Schedule a complimentary Feminine Business assessment call here and see if I'm the guide for you.

With all my heart,