I've been digging deeply, over the last couple of weeks, in the loamy soil of what is possible for the coming season.
My little grandson and I built an altar in the garden to the Goddesses of the woods, honoring the stone grandfathers and grandmothers; the standing people and tree spirts; and the fairies and flowers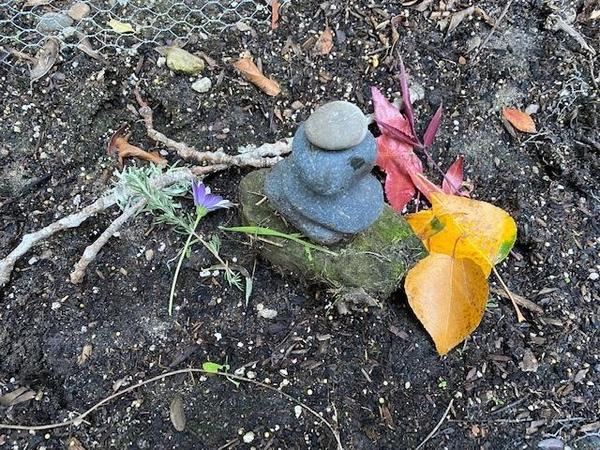 Today I will make sage bundles, if my sage plant agrees to a light trim.
I've led my annual Name Your Year ritual, guiding my community to connect with the parts of themselves and create a theme that will carry them through the coming year.
I've refined my own offers for 2022, adding more magic and more opportunities for money to flow…
…for both myself and my clients.
I've been in conversation with the Record Keepers, finding out more about how to use them to elevate humanity and empower my women so they attract love, respect, acknowledgment and financial abundance.
The dream time of the last month is giving way to time for action, for calling in what we want. Yet, if you are still in the dreaming it up, that's ok. Take your time. The feminine likes to reveal things like a dancer removing her scarves.
If you are like me, and the vision is coming clear, you will feel the quickening of your energy. You may be buzzing with excitement.
Your Divine Masculine, who is most powerful when in service to your Divine Feminine, is building his reserves to take powerful action.
The last full moon of the year, with all of it's magnetic power, is the 18th. The winter solstice is the 21st … the darkest day of the year in our hemisphere, calling us out of darkness and back to light. Out of dreaming our future into making our dream manifest.
I'm consciously opening my calendar and calling in three women who are ready to create a business that allows them spaciousness to explore their connection to Source, take their kids to soccer practice with no guilt or pressure, and build a 6-figure soul-fueled business.
Is your soul calling you to step up, speak out and make 2022 the year of success? I invite you to apply for one of the spots.
Simply reply to this email and say, I'm ready. I'll get you the next step.
With all my heart,