We completed our annual Name Your Year (NYY) ritual last week, and it was AMAZING.
As one of the participants said, "So I think some magic might be happening…"
My team and I first designed the NYY ritual, and we then called it a challenge. It's like a challenge, in that it's held online and there is an action to take each day. And yet… the word challenge doesn't fit what we are doing.
The NYY ritual is a stake in the ground, claiming what you will dedicate your year to, what you will ask of Source.
It's a very powerful energetic magnet for the coming year.
So… not a challenge.
Rituals allow us to by-pass our over-active, figure-it-all-out brains and create clear and open pathways to connect with Source energy and manifest our Soul's desires. From this space of connection, all sorts of unseen helpers and unexpected events show up, drawing you closer and closer to your vision.
Suddenly, clients call you and say, "Hey, I've been on your email list for 5 years and I'm ready to hire you. Can you take a credit card? Or should I send a check?" (True story that resulted in a $10k sale from a 15 min call.)
I was thinking recently about all the rituals in my business. Not just the automatic, check my email, type of things; also, the focused magic that allows me to manifest what I deeply desire.
So, I gathered a few of those rituals and put them into a winter solstice gift for you.
"The Wise Witch: Rituals to Raise Your Vibration and Increase Your Income"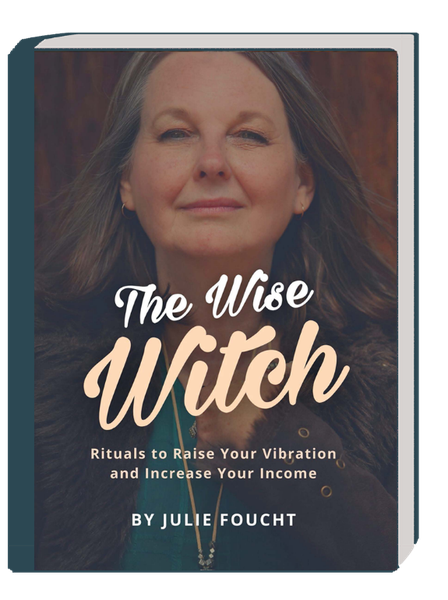 In this guide, you'll learn:
A new morning ritual to open the flow of money, right clients, and inspiration;

My simple practice to raise your vibration making you more magnetic to your peeps, so they willingly pay you for your expertise. (I call this the "Sally met Harry effect". You know – they want what you're having!);
How to step into your highest alignment with Source energy and create the results your soul is longing for;
Witchy practices for marketing that combine your Feminine energies of connection, collaboration, and acknowledgment with your action- oriented Divine Masculine for better results with more ease. You get to give up feeling small and powerless pushing out content that leaves you feeling like you are speaking into a void, and start making a difference, and making sales, with your words; and
Finally, I'm sharing some of my best, most practical, Money Magic practices.
With all my heart,